What is recapture?
Recapture is a tax that borrowers may have to pay on their federal income tax returns when they sell their MaineHousing financed homes. MaineHousing loans are financed with mortgage revenue bonds and Internal Revenue Service (IRS) code states there may be a recapture tax owed by the borrowers.
What are the conditions where recapture applies?
A borrower will owe recapture tax only if ALL of the following are true:
The home is sold within 9 years of the closing date; and
The homeowner realizes a gain on the sale of the home; and
The homeowner's family income has increased significantly and exceeds the limits established by the IRS. IRS limits increase annually by 5%
Paying Recapture Tax
Important Note: Effective for loans closed on or after January 1, 2013, MaineHousing will reimburse borrowers for any recapture tax paid to the IRS.
Download the
Reimbursement Highlight document

to learn more about this process.
A homeowner must apply to MaineHousing for reimbursement in the calendar year immediately following the calendar year in which the home was sold. Note: Recapture tax reimbursement will not apply to refinance loans.
A homeowner seeking reimbursement must submit the following to MaineHousing:
Regardless of whether or not the borrower owes recapture tax upon the sale of their home, they must complete IRS Form 8828

and file it with their federal tax return for the year the home is sold.

The maximum tax is 6.25% of the original loan amount or 50% of the gain on the sale whichever is less. Gain is calculated after items such as real estate agent, legal and closing fees have been deducted from the proceeds of the sale.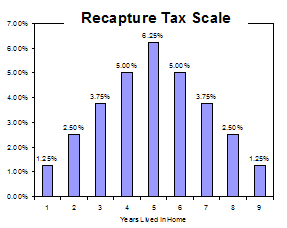 Recapture tax is figured on a scale based on the number of years the homebuyer has lived in the house

Example:
Original Loan Amount: $100,000

Home sold in year 3; seller realized a $10,000 gain

Maximum Tax: $100,000 x 3.75% = $3,750






Recapture Tax Charts
To check if your income has increased above the limits, please see the charts below. If you do not find a chart that covers the date you purchased your home, please email the Homeownership Department.