Multifamily Rent Subsidized Portfolio Data
---
Rent-subsidized housing includes developments with project-based rental subsidy and in some cases additional MaineHousing financing.
Rent-Subsidized Portfolio Snapshot*
Area
Family Projects
Family Units
Elderly Projects
Elderly Units
Total Projects
Total Units
North
Aroostook, Franklin, Oxford, Penobscot, Piscataquis, Somerset and Washington Counties
35
619
83
2,038
110
2,894
Central
Androscoggin, Hancock, Kennebec, Knox, Lincoln, Sagadahoc and Waldo Counties
27
967
22
1,696
73
2,901
South
Cumberland and York Counties
22
750
63
2,205
83
3,145
Total
84
2,336
168
5,939
266
8,934
*Numbers of projects are not additive because some projects contain both family and elderly units and are counted in each group.
Average Operating Costs as a Percentage of Total Rental Income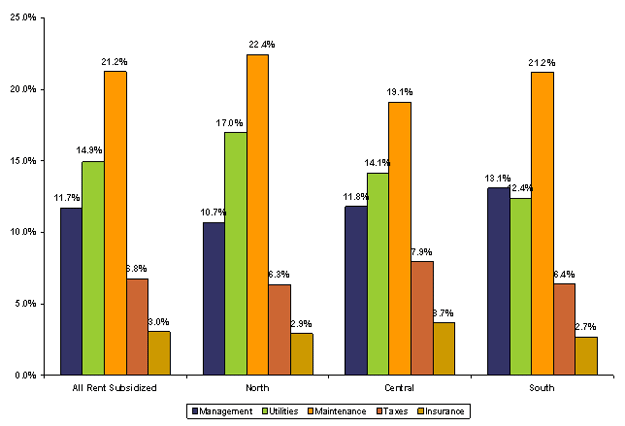 Source: Portfolio data is from MaineHousing's Multifamily Database. Operating cost data is from Audited Financial Reports 2008.
Note: These numbers are for information purposes only; each property in the portfolio has unique operating characteristics.