Step 11: Congrats, You're a Homeowner!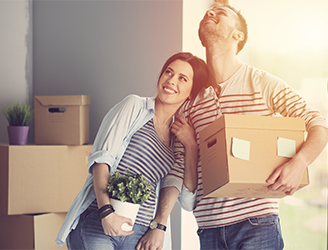 Keeping Up With Repairs
Every step you take now to care for your home will benefit you and your family in the future. It is important that you maintain the condition of your home for safety and comfort and to protect the value of your property. Maintaining your property requires both time and money. When it comes to budgeting for annual home maintenance, a general rule of thumb is to set aside one percent of the price you paid for your home.
If you are a homeowner whose drinking water comes from a private well, Maine's Division of Environmental Health recommends testing your water once a year for bacteria and nitrates and every 3 to 5 years for contaminants such as arsenic, uranium, radon, and lead. Visit the Maine's Division of Environmental Health website

for a list of water testing laboratories.
Establish an Emergency Fund
An emergency fund can help you prepare for life's unexpected events, such as a job loss, health issue, or large home or auto repairs. An emergency fund should cover at least 3 to 6 months' worth of living expenses, including the most common expenses such as, mortgage payment, utility bills, food costs, health insurance, student loans, car payments and car insurance. You can build your emergency fund by putting away small amounts on a regular basis, every week or every paycheck.
Budgeting Tools
If you are looking for a tool to help establish your budget based on actual expenses as a new homeowner, Mint

is a free, secure online tool that allows you to download all your financial information from your bank and then track and categorize your spending. Mint will create a budget for you based on your spending habits. https://www.mint.com/budgeting-3/home-budget-template-create-an-effective-household-budget
Other online money management tools can be found at:
Managing Financial Difficulties
Should you encounter a financial issue or a hardship that prevents you from making your mortgage payment, or you have not yet been late on your payments, but are worried that it could happen, make a call for help right away.
Call your loan servicer. There are a variety of programs available to help you resolve your delinquency and keep your home. You may be eligible for a loan workout option to make your payments and terms more manageable. Ask your servicer to send you a loan workout (loss mitigation) packet of forms. After you fill out and return the forms, the servicer will review your income, debt, and hardship and determine whether you're eligible for a foreclosure avoidance option.
Call a HUD-approved housing counselor. Experienced and trained housing counselors can assess your situation, answer your questions, go over your options, prioritize your debts, and help you prepare for discussions with your loan servicer. A counselor can work with you over the phone and/or set up a time to meet with you in person to discuss your situation. There is no charge to work with a housing counselor — help is free! Download this list of HUD-approved housing counselors who provide foreclosure prevention counseling services.


Beware of scams! Do not pay a third party provider a fee for foreclosure prevention services.


Resources
Make Your Home Energy Efficient
Consider making your home more energy efficient. After your mortgage payment your monthly heating and utility bills are usually your next largest housing-related expenses. Investing in energy efficient improvements will decrease the money you spend on energy bills, increase the money you have for savings or home maintenance, increase the resale value of your home, and make your home more comfortable.
A home performance evaluation, or energy audit, is one way to determine where heat may be leaking out of your home. The energy audit report will identify where the greatest energy losses are in the home, estimate how long will it take for the upgrade to pay for itself, and determine if you can do the work yourself or need to hire a contractor. If you are interested in a resource for homeowners hoping to make their homes more energy efficient, visit the Efficiency Maine website

.